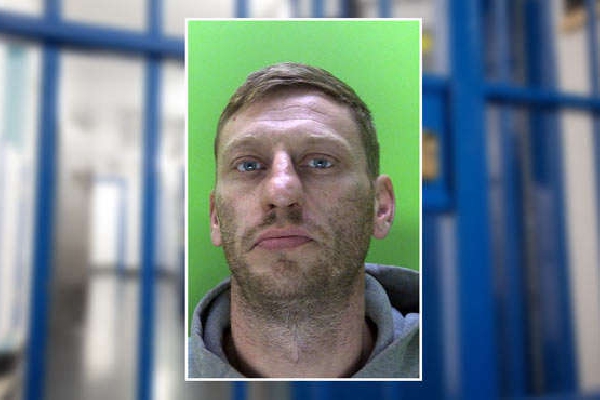 A man who threatened to "bury" a woman during a stream of menacing messages has been jailed.
Kevin Reynolds issued the sinister warning after launching a verbal attack against his victim over the phone.
These threats then continued later that day (14 November 2022) when he sent his victim multiple messages over social media.
The woman – who knew Reynolds – was warned she would be "put in a box" by the 35-year-old, who also threatened to kill himself.
Following this incident, Reynolds spent time in prison for a separate offence and then moved into a property in Kirkby-in-Ashfield following his release.
While on tag and within a week of moving into the house, another person living at the address noticed some of their belongings had gone missing, so reported this to the police.
Hundreds of pounds worth of jewellery, as well as multiple electrical items and quantities of cash were all stolen from inside the house, between 7 July and 11 July of this year.
In the middle of his stealing spree, Reynolds was also involved in a further incident in the Kirkby-in-Ashfield area on 10 July.
This time, he decided to rip the windscreen wipers off a car belonging to a person he knew.
Reynolds would go on to be charged with criminal damage for this offence, along with sending an offensive/indecent/obscene/menacing message, and three counts of theft.
Having admitted to the criminal damage, Reynolds denied everything else but was found guilty at Nottingham Magistrates' Court on 5 September.
This offending was also compounded by the fact it breached an outstanding suspended sentence order imposed on him in June 2022.
Reynolds, of HMP Nottingham, was sentenced to two years in prison, while a five-year restraining order was also imposed preventing him from seeing or contacting any of his victims.
PC Summer Watson, of Nottinghamshire Police, said:
"Reynolds is a prolific offender, who carried out each of these different crimes, despite a suspended sentence order hanging over him at the time.
"The threatening language he used against his first victim was completely unacceptable and will have no doubt left them feeling afraid for their own safety.
"He will have known exactly what kind of impact his words would have, yet he decided to say it anyway.
"Following that, he breached the trust of another person known to him by repeatedly stealing items from them, for his own personal gain, before compounding this further by deliberately damaging other property.
"All of Reynolds' actions completely crossed the line, so we're pleased to see that he's now facing the consequences of what he did in the form of a spell behind bars."