Advertising On Mansfield 103.2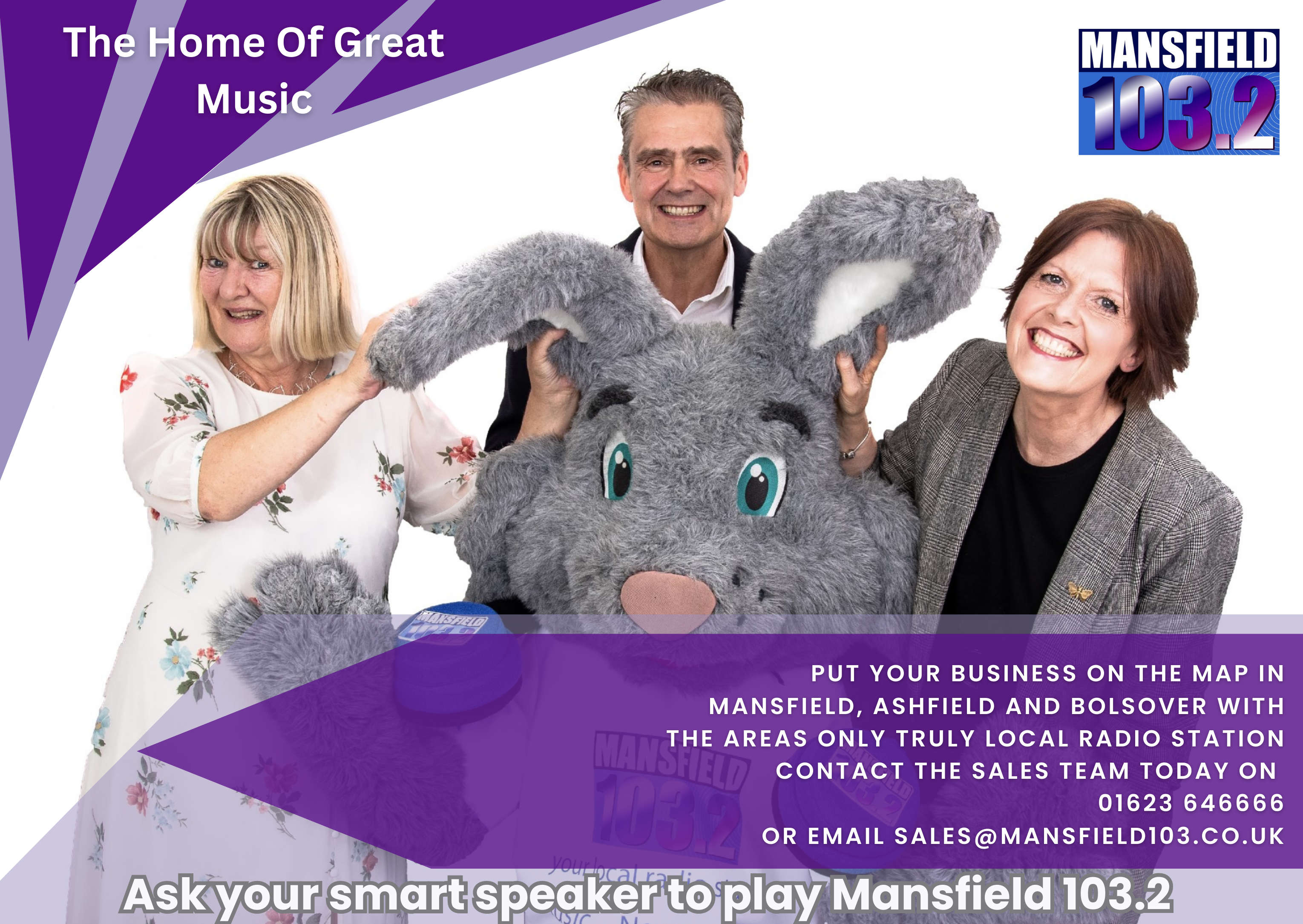 Since Mansfield 103.2 began broadcasting on February 1st, 1999, it has grown to become the number one radio station for Mansfield, Ashfield and Bolsover.
Mansfield 103.2 is Mansfield's market leading radio station reaching 42,000 unique listeners every month.
We offer a range of bespoke advertising packages in addition to sponsorship promotional opportunities as a way of building brand awareness using radio.
Your company and brand 'tagged' to high profile on-air features.
Regular sponsored features include Weather bulletins, Traffic Reports, Sports News and individual programme sponsorship.
Sponsorship offers a tried and tested method of building your brand reputation in a prestigious way.
We can also offer one off promotions for product launches and branch openings.
Winning weekends and themed weeks or days are a fun and effective way of getting awareness and reputation and are individually tailored to your business.
Why use radio? Powerful and creative Radio is the theatre of the mind, painting colourful three dimensional pictures in your customer's minds.
Prestigious Listeners regard the medium of radio as prestigious and this extends the advertisers message.
Solus Press ads can class with unrelated editorials or competitions ads. On radio there are no connected businesses back to back.
The first and last medium Most radio listeners tune in at breakfast time, either in the home or in the car, offering radio the first word of the day. Radio is also the most likely medium to be heard by shoppers before a purchase is made, which allows advertisers to have the last word.
Cost effectiveness In comparison with the cost of a single half page in the local press, advertising on Mansfield 103.2 is cost effective. Plus campaigns on Mansfield 103.2 can be tailored to reach across the whole of our transmission area.
Contact our team - please fill in the form below, e-mail our sales team sales@mansfield103.co.uk or call on 01623 646666 where you will be put through directly to our friendly sales team. You can always drop in to our offices at Samuel Brunts Business Centre, Samuel Brunts Way, Mansfield, NG18 2AH. One of our sales team will then make an appointment with you to discuss the best and most cost-efficient way you can get your business the maximum publicity. Advertising on Mansfield 103.2 - it works!