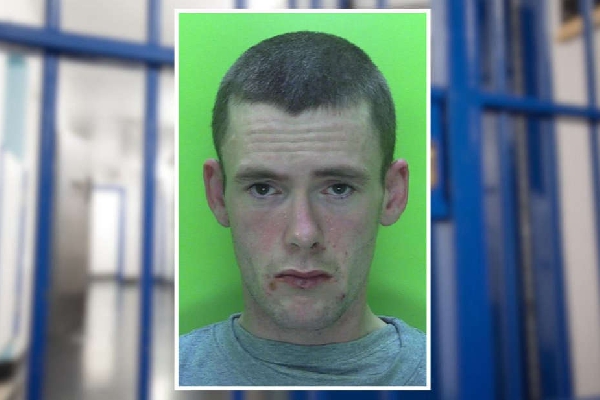 A violent burglar has been jailed after leaving a trail of evidence behind him.
Curtis Robinson, aged 28, was linked to various crime scenes in Hucknall and Sutton-in-Ashfield by a combination of CCTV footage, footprints and forensic evidence.
On 22 June 2023 he was in the process of stealing a motorbike from an outbuilding on Station Road, Sutton-in-Ashfield, when he was caught by the homeowner.
Robinson, who then assaulted the man with a metal dumbbell in a bid to get away, was identified on CCTV and his DNA was later recovered from the scene.
He had also broken into a neighbouring property on the same day but left empty-handed.
During the same week, Robinson was also captured on CCTV as he stole hundreds of pounds worth of goods as he repeatedly targeted the Wilkinson's store in Sutton-in-Ashfield.
He was then linked to a burglary that had occurred on 19 October 2022 at a pub in High Street, Hucknall, when he'd forced open a cellar hatch to gain access.
After stealing a till and several bottles of alcohol during the break-in, Robinson left behind a clear footprint on a ladder he'd used to gain entry.
He was arrested by officers on 26 June 2023 when he tried to flee from a taxi in Outram Street, Sutton-in-Ashfield. During a brief struggle he violently elbowed and kicked them until he was finally restrained.
Robinson, of no fixed address, later pleaded guilty to six counts of burglary, eight counts of theft, one count of common assault and two counts of assaulting an emergency worker.
Appearing at Nottingham Crown Court on Monday 13 November, he was jailed for a total of three years.
Detective Sergeant Nathan Bingham, of Nottinghamshire Police, said:
"Robinson is a prolific offender who invaded the homes, lives and businesses of multiple people.
"His offending had a significant impact on his victims and other members of society, therefore I am delighted we were able to bring him to justice."
"I sincerely hope he uses his time in custody to re-evaluate his lifestyle."