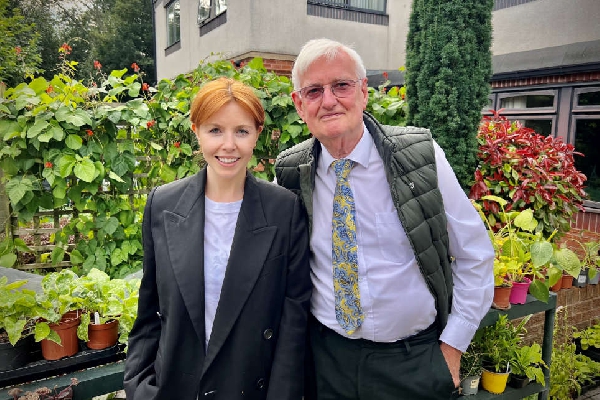 Award-winning presenter and Strictly Come Dancing star Stacey Dooley has been filming a new documentary in Nottinghamshire exploring death, a follow up to her acclaimed documentary 'Inside the Convent', where she talked about her own fear of death
'Inside the Undertakers', which is due to air on BBC One at 9pm on Thursday 9 November, sees Stacey visit John Eastwood Hospice in Sutton-In-Ashfield where specialist care and support services are provided by Nottinghamshire Healthcare.
Stacey meets David, who is now receiving specialist palliative care at the hospice after he was diagnosed with kidney, stomach and oesophageal cancer in April 2021.
As part of his treatment plan, he had to have six inches of his oesophagus removed and part of his stomach, meaning he can only have small meals. During this period, David believed he was receiving curative treatment but in September 2022 he was told his condition was terminal.
When it was suggested to David that he attend the John Eastwood Hospice, his initial thought was 'I'm not dead yet!', but since attending the Living Well Centre at the hospice his opinions have changed.
He said: "My idea about what they can support with has significantly changed and I feel confident they are here for support throughout my cancer journey. I continue to live my life to the fullest and recently had a lilac wrap put on my car. My son wasn't sold on the colour, but I feel this reflects my flamboyant nature and I make no apology for that!"
David, an accomplished cameraman who has worked for the BBC, said: "I felt apprehensive about doing the interview, but Stacey put me at ease straight away and made me feel so relaxed and comfortable I felt able to speak openly about my cancer journey and my thoughts about end of life."
During the documentary, Stacey explores people's stories and attitudes towards death in the UK and meets with a number of different people (including David) to discover the role that faith plays in today's secular society.
Michelle Stendall, Lead Therapist and the Living Well Centre Lead at John Eastwood Hospice, said: "David continues to attend the Living Well Centre where he participates in the gardening group. He must be the only patient we've ever had that comes to do gardening in his shirt and tie! He gets emotional and psychological support when he attends and likes to talk through concerns with staff.
"Recently we've had a conversation about how David has always been the one to arrange insurance, plumbers and tradesmen, and he wanted to ensure that his wife Liz would be able to manage when he's no longer here. The Living Well Centre team were able to work with David to create a special book that's an easy and safe way for him to record practical details about his life ready for his wife, Liz.
"David is a selfless, caring and kind gent. He wants to live life until he dies, and he certainly does that."
Becky Sutton, Chief Operating Officer at Nottinghamshire Healthcare said: "Whilst the end of life can be a solemn journey, it's truly remarkable when patients share their stories. The courage and wisdom David shares inspires us all, reminding us of the importance of compassion and quality of care in those moments. Thank you David for sharing your story with us.
"The incredible work of both colleagues and volunteers at the hospice is outstanding. It really highlights the importance of hospices and how much they can help and support patients, their families and their friends through really difficult and challenging times."
Tune in to BBC One at 9pm on Thursday 9 November to watch the documentary. A recording will be available on BBC iPlayer shortly after it has aired.
John Eastwood Hospice aims to restore both comfort and dignity to patients, to such a degree that they remain alert and able to take an interest in their surroundings and in their relatives and friends. Life, however limited, is very important and the hospice is not just a place for dying, but for the continuation of being alive. The hospice supports NHS partners in the delivery of specialist palliative care services both on site in Sutton-In-Ashfield and in the community to people across Mid-Nottinghamshire in their own homes.
Find out how you can support the John Eastwood Hospice charity on their website.