Ron Coles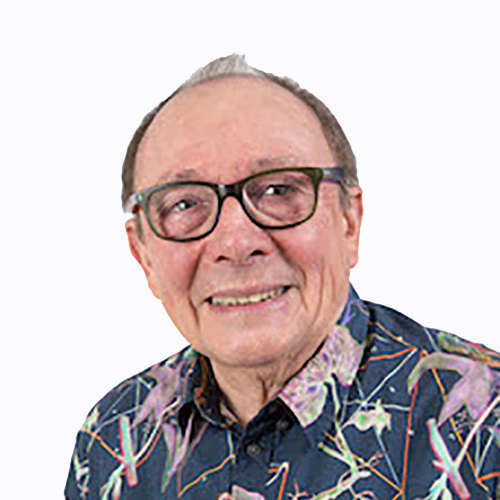 Ron presents "Juke Box Giants" every Sunday between 5pm and 7pm on Mansfield 103.2.

At school, one of Ron's teachers said two things that make him smile today. He thought Ron spent too much of his time listening to rock 'n' roll music and to encourage him to concentrate on school subjects, he said: "You need to work harder…. you won't be able to make a living by knowing what's in the Hit Parade!" On another occasion he said: "In 10 years time no one will remember Bill Haley!" What would that art teacher say today if he knew that Ron had spent a lifetime talking about rock 'n' roll and the charts and regularly plays Bill Haley on his weekly programme?
Ron's Potted History
Ron started broadcasting at the BBC's first local radio station in Leicester. He went on to make regular appearances on Radio One's Newsbeat with the 'Pop Slot', worked on the Today Programme, Newsdesk, and the World Tonight on Radio Four, then became a training instructor for the BBC in London. He rejoined local radio, as head of programming at Radio Nottingham, then Manager Radio Sheffield. Commercial radio beckoned and Ron was appointed Managing Director Radio Trent, where he launched new services for Leicester and Derby and 'gold' station Gem AM. After a merger he added BRMB, Mercia Sound and Extra AM to his responsibilities. He helped Border Television to move into radio and set up the Nottingham based regional station now known as Gem 106, before becoming Saga's Director of Radio, launching stations for the over 50s in Nottingham, Birmingham, and Glasgow and a national DAB station PrimeTime Radio. Ron is a former Chairman of the commercial radio industry's trade association and of the Radio Academy. Sunderland University awarded him an Alumni Fellowship in 2010 for services to radio.
Career High - Responding to the then Home Secretary Douglas Hurd at an industry gathering when he was Chairman of the Association of Independent Radio Contractors.
Career Low - Getting lost whilst reporting on an Orienteering Exercise!
Something You Didn't Know - Ron did work experience as a floor manager on TV show Coronation Street.
Jukebox Giants - Ron first presented his 50s & 60s rock 'n' roll show on Mansfield 103.2 in 1999, shortly after the station first opened, and he has been doing so every week since rejoining the station following his retirement from full time broadcasting in 2007.