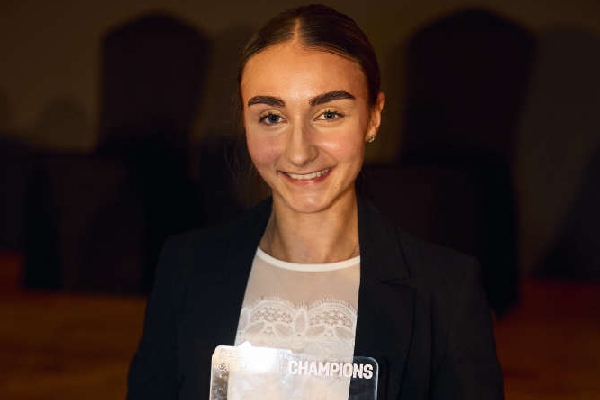 Local pole vaulter Felicia Miloro has been crowned a winner at Everyone Active's prestigious Sporting Champions Awards.
Felicia triumphed in the 'Social Media Champion of the Year' category at the event, which was hosted by Great Britain's double world 110m hurdles champion Colin Jackson at Porchester Hall in Bayswater, London on Tuesday, November 7.
Celebrating those who have had career successes or who have engaged in the Sporting Champions scheme at their local Everyone Active centre, the awards also recognise those who have helped to inspire other up-and-coming sportsmen and women.
Everyone Active runs more than 220 leisure and cultural centres across the country,
including Lammas Leisure Centre, Kirkby Leisure Centre and Hucknall Leisure Centre in
Ashfield, in partnership with Ashfield District Council.
The company's Sporting Champions scheme is a sports talent development programme which supports 1,400 athletes.
Now in its seventh year, the initiative has helped thousands of athletes to achieve their sporting potential by providing free access to Everyone Active's leisure facilities nationwide.
Felicia, 22, trains at Hucknall Leisure Centre and was under-23 national champion in 2022,
as well as a bronze medallist at the UK Championships in July.
The awards ceremony was preceded by a mentoring workshop, led by the scheme's team of Elite athletes.
Olympic and Paralympic stars Lutalo Muhammad, Richard Kilty, Maisie Summers-Newton, Kadeena Cox and Lauren Steadman shared their insights and experiences to help guide the Sporting Champions athletes in their own careers.
Lorenzo Clark, Everyone Active's contract manager, said: "Our congratulations go to Felicia on a fantastic year and a well-deserved award.
"The Sporting Champions scheme has been very successful in providing exceptional support to emerging talent and we were delighted to showcase this.
"It's fantastic to see how the scheme has expanded over the years, now providing more than 1,400 athletes nationwide with access to top-quality training facilities and support.
"As a leisure provider working in partnership with Ashfield District Council, we feel it is important to cater for all sections of the community, and we hope to continue making a real difference to our athletes' success."
To find out more about the Everyone Active's Sporting Champions scheme, visit www.easportingchampions.com or follow @easportingchamps on Instagram. For further information on Everyone Active, visit www.everyoneactive.com