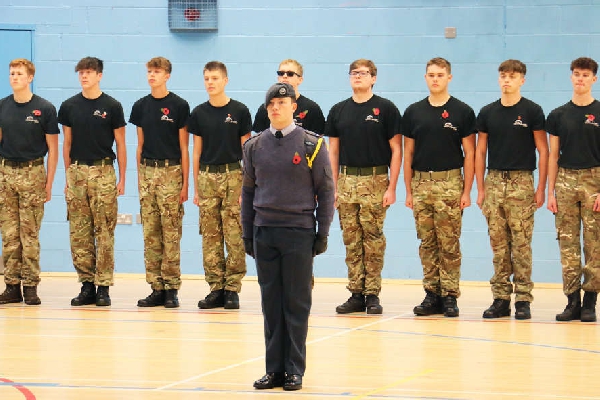 The annual Remembrance Day service and formal parade was organised and led by West Nottinghamshire College's uniformed protective services (UPS) curriculum this weekend.
More than 80 students who are studying on UPS courses, with aspirations of taking up careers in the Army, Royal Air Force, Royal Navy, the police force and fire service, welcomed VIP guests, staff, and family and friends to the college's third annual Remembrance Day service on Saturday (11 November).
Supported by UPS staff, some of whom are ex-military, the parade saw an guard of honour march led by parade commander and extended diploma student Fiona Goodwin while extended diploma student Libby Heathcote acted as static guard leader and delivered a reading.
A-Level student Ethan Burton, in his role as RAF warrant officer, performed a parade inspection as well as laying a wreath, alongside other dignitaries and guests who laid wreaths in memory of the fallen.
Attendees were able to see the witness students carrying out specific drill movements which they had practised since their arrival at the college in September 2023. These individuals were made up of Level 1, 2 and 3 students
The college's principal and chief executive Andrew Cropley was joined by former principle Don Mackenzie and his wife Jane. Mr Mackenzie was the college's principal from 1974 to 1994. Both principles laid poppy wreaths on the ceremonial table to honour fallen members of the military veterans and current serving men and women.
Libby Heathcote, 19, from Nottingham, said: "The parade went really well and it was wonderful to see how far the students have come since September. There were lots of nervous people out there but they should be so proud of their performance today.
"We saw triple the number of guests attending from last year and being part of this day made me feel really proud."
Andrew Cropley addressed VIP guests, staff, students and their families and thanked them for attending the parade. VIPs included representatives from Mansfield District Council, Ashfield District Council, Nottinghamshire County Council, the Association of Colleges, Nottinghamshire Police, Nottinghamshire Fire and Rescue, Mansfield Town Football Club, and a range of local business owners and organisations.
Intermediate Certificate in Preparation for Public Services student Ellie Catton, 17, from Colwick in Nottingham invited three generations of her family to the parade, including great grandad Stanley McGarry and his wife Hazel.
Stanley served in the Royal Army Service Core as an ambulance driver in both Malaya and Germany. Stanley and Hazel proudly watched their great granddaughter along with their granddaughter Sinead Murray (Ellie's mum) and their daughter Tracey McGarry.
Seventeen-year-old Ellie, who would like a career in the army, said: "It's my first year on the course but I've had experience of being on parade in the army cadets. Today was really special having my family with me."
Programme area leader for UPS, Simon Humphreys, said: "The parade went incredibly well, and I was very impressed by the students' performance and dedication. It was humbling to see so many people attend the parade to respectfully remember the fallen.
"Thanks go to UPS teacher Derek Dawkins as without him, these parades wouldn't have been initiated so professionally three years ago and we will continue to organise and hold the Armistice Day parades at the college."
Principal and chief executive Andrew Cropley said: "To see more than 80 of our young uniformed protective service students leading this commemoration is very humbling and they made everyone attending incredibly proud.
"There's a real sense of togetherness which is felt on parade. I remember this well during my days at Britannia Royal Naval College in Dartmouth. Everyone is working hard together to get it right and you want to be as good as everyone else while helping each other to get it right.
"It's a great lesson for the students coming together on a day like this. Whether they go on to a military future or something else, it's about understanding the value of being in-step with your colleagues, which is so important. Armistice Day is such an important day to remember not just those who have lost their lives in battle, but to remember what they lost their lives for."