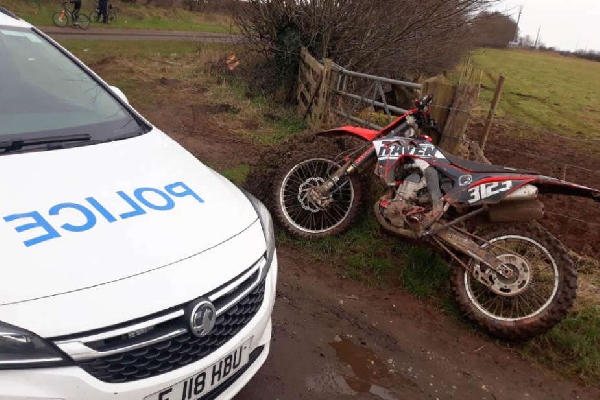 Police are encouraging members of the public in Mansfield to play their part in tackling the dangerous, illegal and antisocial use of off-road motorcycles.
Officers in the town are encouraging drivers, neighbours and others to see it, report it and stop it by submitting small pieces of evidence that can later be used to bring criminal charges, issue fines and seize bikes.
Dashcam footage, photographs, and written accounts can be submitted in confidence, and will all be analysed to identify riders, their bikes, and any offences they may have committed.
Officers also want to know where the bikes are being kept.
Inspector Kylie Davies, district commander for Mansfield, said:
"Residents have been telling us over and again how concerned they are about this issue, so now we're empowering them to help us to address it.
"We are already seizing bikes and holding riders to account, but we want to do more and need the public's help to do it.
"Put simply we want them to see it, report it and stop it. Every photo or piece of footage we receive will help us to build a bigger picture, identify offenders and keep people safe.
"Where we have evidence of criminal offences – such as dangerous driving or driving without insurance – we will of course seek prosecutions."
Other sanctions will include the issuing of Section 59 notices to put riders on notice that their bikes will be seized if and when they come into contact with the police again.
Responding to public concerns, officers have made the issue of vehicle related-antisocial behaviour a local priority, with action also planned to tackle car cruising events and the nuisance use of e-scooters.
All evidence of dangerous and antisocial riding will be kept and reviewed on a regular basis to hold riders to account.
Inspector Davies added:
"People are telling us loudly and clearly that this is a serious concern for them and that they are genuinely fearful of bikes that are being ridden recklessly on footpaths, pavements, parks and other public spaces.
"We simply can't tolerate this kind of behaviour and want those people to know we are on their side. Clearly this is not a simple problem for us to solve, but I know we can achieve a lot more with the public's help.
"Whilst it is vital that nobody does anything to put themselves at risk, every photo or video we receive will help us to seize bikes, prosecute riders and keep the public safe. So, if you have dashcam footage of someone pulling wheelies, riding with no number plates or committing other offences, please send it to us.
"It will be reviewed, and we will take action when we can and, if we cannot, we will add the information to our intelligence picture to revisit when further information is received. The information you provide could therefore be a vital missing piece of the puzzle.
"Finally, I want to stress that this initiative is equally about the welfare of the riders themselves. By behaving in this way they not only run the risk of hurting themselves or others, but also of acquiring penalty points that will prevent the from driving legally in the future."
Officers would like the following pieces of information to help tackle this issue:
Times, days and locations
The make, colour or size of a bike
Details of clothing, helmets and other distinguishing marks
And where motorcycles are kept.
Reports can be made:
Via the Nottinghamshire Police Dash Cam Portal (for images and videos).
We will thoroughly investigate even if you do not wish to attend court
By calling 101
By emailing Mansfield Neighbourhoods Team at manssouth.npt@Notts.Police.uk
Or by contacting Crimestoppers.