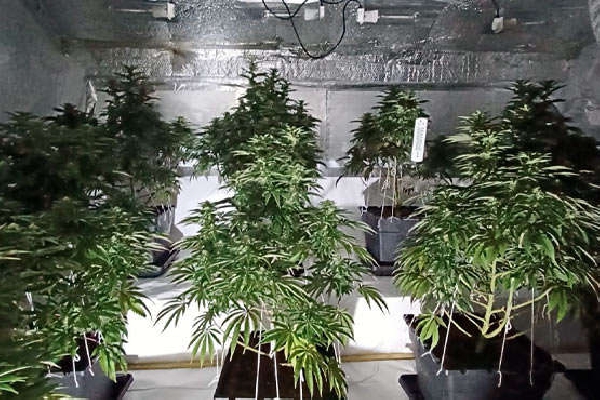 Police have put two cannabis factories out of action after raiding homes in Mansfield and Ashfield.
Officers from the Ashfield Neighbourhood Policing Team were tipped off about a possible grow at a property in Central Avenue, Kirkby-in-Ashfield.
When they arrived at the property at around 1.20pm on Wednesday (15 November) officers found all the curtains closed, a loud noise coming from fans and a heat map showing high temperatures within the house.
After gaining access, they found plants growing across four rooms inside the address.
A 34-year-old man who was found inside the property was arrested on suspicion of cultivating a Class B drug.
Officers also discovered a range of equipment used to power the grow and found the electricity supply to the home had been bypassed.
A second raid was carried out on a house in Laurel Avenue, Mansfield, at around 4.15am on Thursday (16 November).
When officers kicked down the door they found a woman lying on a sofa in the front room. A total of 105 cannabis plants were discovered growing in various rooms within the property.
A 53-year-old woman was arrested on suspicion of cultivating a Class B drug.
Inspector Jon Hewitt, district commander for Ashfield, said:
"These were both large cannabis grows and I'm pleased neighbourhood and response officers in the two districts have been able to shut them down and destroy the plants.
"Cannabis production is invariably linked to wider, organised criminality and can also create issues and dangers for people living in our communities.
"Unsuspecting neighbouring families are often put at risk by rival criminal gangs if they target the crop to steal the plants.
"They can also be put at risk of house fires by the dangerous electrical wiring and bypassing that we very often see with these types of grows."
Inspector Kylie Davies, district commander for Mansfield, said: "I would urge anyone who believes cannabis is being produced in their neighbourhood to get in touch.
"Your information could be a vital missing piece of the jigsaw which allows us to take positive action."
All the cannabis seized from the address will be destroyed and the equipment put out of action.